We all have our heroes in this sport and like so many others Karch Kiraly is one of mine.
His retirement age was 46 so that became a landmark age to be still be playing at and so by competing this summer at aged 46 I had hit one of my goals I set myself when he retired in 2007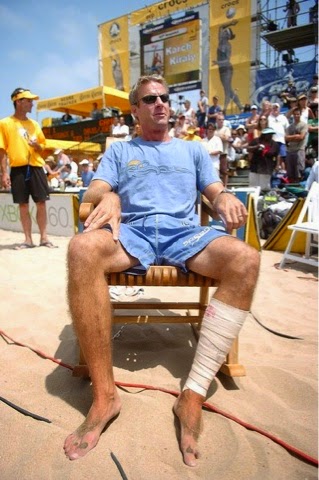 Karch received this rocking chair when he retired from the AVP IN 2007.
Weymouth and it's history every year makes me want to set goals. Every time I read the leader board and see me on it and read past winners and scroll down from 1996 through to 2009 (next year it will read 2014) and see eight (now nine) past summers when our match point was the winning one. I want to keep writing my own history book.
Nothing comes to you without you setting your mind to achieve it. It's not how good you are but how good you think you can be that matters.
Those past winners at Weymouth are now some long gone, I can't believe that I am still here and BOOM 'Baby Boulton' and I had an All England win! We struggled through Saturday winning very narrowly in three sets – three matches, to make Sundays finals. After playing with Mel Coutts for over six years which felt like putting on an old very comfy pair of jeans. Lucy and I were like an brand new expensive pair of jeans which fitted well, but hadn't ever been worn in. By Sunday they just worked!
There are a few factors why we went from being vulnerable and anxious and error prone to impossible to beat but for this 46 year old, being served all weekend was always going to be a given. Goal was to have the opponents not serve me! Goal achieved! Another MVP of the tournament goal achieved. A win in my 46th year. Goal! Another win at Weymouth? Goal!!!
I know I am competitive but I don't always see it or understand why I am. I know that Ellie my 13 year old daughter is fiercely and she gets it from me and everyone says I shouldn't be surprised.
To score a goal in sport means you are focused on the target and getting that ball in the net before someone else stops you. Set a goal and not stopping until you achieve it gives you competition with your inner drive, coaches will talk about intrinsic motivation and how easy it is to teach someone with it. But it can be learned by teaching yourself belief, focus and patience.
As the commentators so often said at Weymouth this weekend no one remembers second place, it took six years to get the first name on that board. It's taken me 24 to get nine. I might not make the next Weymouth goal, but you can be sure it's been set but not by Me. As soon as I saw Ellie after the final and we walked into the players tent, she said you know you have won nine titles now mum you have got to try and get 10!
Thanks Weymouth Beach Volleyball without you and the history you bring the sport in the UK wouldn't be the same.