International Beach Volleyball School - Croyde - British Residents - 8th - 11th July 2019 for 12-17 year olds
Description:
Two Week Camp in Croyde, North Devon alongside Beach Volleyball International School
In 2018 we have two weeks available for International Beach Volleyball School Camps for 12-17 years of age. -British Residents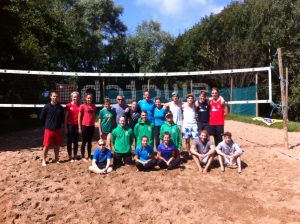 Are you or do you have a child who you would like to learn play volleyball then this is the Beach Volleyball Camp for you!
It will bring young people from all over the world together who already have a love of beach volleyball.
Training under great beach volleyball coaches many who work with Volleyball England National Team Program.
Beach Volleyball Inc will be working alongside Country Cousins  language school in Ilfracombe who will be hosting the international students in local families in the community of Ilfracombe and Braunton area. to view the local area on google maps
The schedule for the beach volleyball camp will be as follows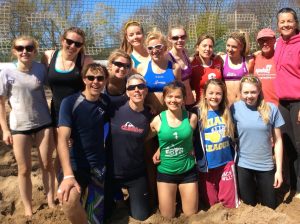 Monday 1st July - Thursday 4th July
 or Monday 8th July to Thursday August 11th July
Session 1 09:30-11:30 Technical & Physical Session
Session 2 14:00-16:00  Game Play Session with Coaches
Each day the shuttle will return the students to their host families with evening activities with the language school in Ilfracombe on three evenings. British Residents should be collected or return to their own accommodation.
Friday 5th July 
The International Students will be traveling to Sandbanks the UKBT Junior Championships and you are welcome to come with us.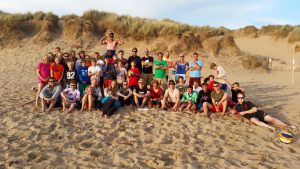 Costs for the camp £160
The overall costs for the camp include
Four days beach volleyball coaching in English with on-court English lessons, from our experienced beach volleyball team under the guidance of Denise Austin GBR  International and beach camp organiser of 20 years. If you are in any doubt please do see  Denise Austin BVInc Facebook page photos here  for an understanding of her experience she will bring to your beach volleyball camp
Beach Volleyball Guidebook with all the beach volleyball moves in English.
Interaction with foreign students who are with the International Beach Volleyball School and local beach volleyball players, many England internationals from the Academy of Beach Sports
Beach Volleyball Inc kit
Payable by BACS/CHAPS/IBAN details  will also be shown on completion of registration
IBAN: GB04 CPBK 0892 8611 4259 46
please ensure it is sent in GB Pounds £'s
if you pay by PayPal to denise@beachvolleyballinc.com there will be a 4% surcharge added automatically if you pay immediately.
Please complete the enrolment form and send it with payment of £160.
Accommodation 
Should be arranged by parents who are staying in the area.
Terms and Conditions of enrolment
Courses and Accommodation are offered subject to availability
Beach Volleyball Inc. reserves the right to cancel a course or make changes to course arrangements without liability if obliged to by circumstances beyond its control or due to low demand.
In such cases, Beach Volleyball Inc would seek to offer alternative arrangements, dates or venues, or a full refund of fees for tuition and accommodation.
Beach Volleyball Inc reserves the right to refuse to accept a student due to overriding health and safety concerns, or in cases where we or the accommodation provider cannot make reasonable provisions to facilitate their learning needs or personal care.
The course fees must be paid in full. Students will not be permitted to start the course unless full payment has been received 28 days prior to start date.
Cancellations & refunds
Parents or guardians must inform Beach Volleyball Inc in writing of any cancellations or changes. Cancellation fees are charged as follows:
CANCELLATION / CHANGES RECEIVED REFUNDED
More than 28 days before the course begins All fees refunded.
14-28 days before the course begins 20% of course fees (excludes transfer charges)
Less than 14 days before the course begins and after arrival/early termination of the course No refund available
Student conduct/standard of behaviour We reserve the right to terminate without notice the course of any student where misconduct is proven to be persistent.
There will be no refund of fees to students whose courses are terminated in this way.
Responsibilities of the parent or guardian
By completing and submitting the registration form, the parent or guardian:
1. Grants the student permission to participate in the full programme of leisure activities.
2. Authorizes  Beach Volleyball Inc to take appropriate action in the case of any medical or another emergency, and accepts responsibility for any resultant cost.
3. Accepts responsibility for any willful damage caused by the student and any resultant cost for repair or replacement. for example breakages through acting irresponsibly.
Promotional Photographs and Videos for Beach Volleyball Inc or its staff may take photographs and videos of classes or other school activities during the student's time with us, which may be used for promotional purposes. If the student does not wish to appear in any promotional materials, please advise us at the time of booking.
Arrival
Students to arrive into Croyde by 09:30 Monday morning.
Departure
The camp for British Students finishes on the Thursday 3pm
Ready to Register.....Enjoy!
Monday 1st July - Thursday, 4th July