When & Where? We have dates, pencil in but dont book
The Tenerife training camps run from 27th-31st December 2020  to the 11th  February 2021
The beach courts are on  Playa de Los Cristianos, Tenerife.
Our camps are intense, fun, friendly, social and aimed at the already committed beach volleyball player who has the passion to last five intensive days of coaching and playing and competitions with two days either side of the camp open game play. 
Each camp has typically 24 people run over 3 courts with 8 athletes on each court and a minimum of one coach per court, with trainers and assistant coaches. 
For 2020 we have four weeks for small groups of eight only.
If you would like a week just with Denise Austin with eight players maximum, then this is for you.
24 People Camps
Not including accommodation £240 
27th-31st Dec 2020
3rd-7th Jan 2021
10th-14th Jan 2021
17th-21st Jan 2021
6-8 People Camps
Not Including accommodation £240
24-28th Jan 2021 (Sun to Thur) 
31st-4th Feb 2021 (Sun to Thur) 
7th-11th Feb 2021 (Sun to Thur)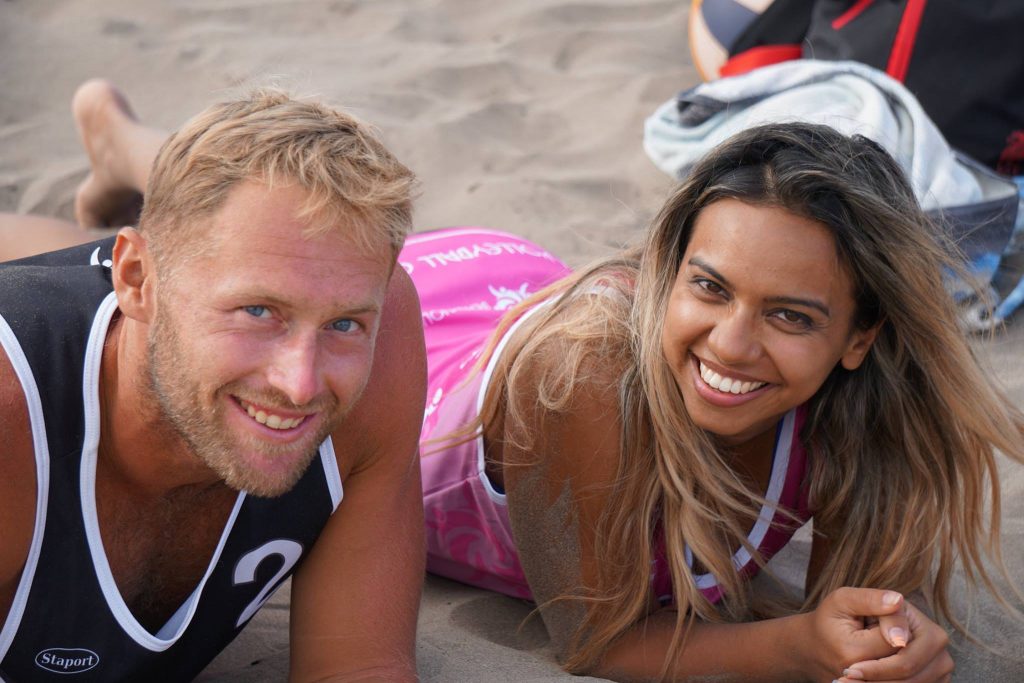 Personal Coaching
Our number one belief as coaches is your personal development. We strive to understand how you learn so we can help you improve. 
We want to bring the best out of you. Coaching for all of our staff is a passion and commitment to their own knowledge about how to teach as it is about your desire to learn. 
As coaches we factor in our time to debrief about every individual daily and then create training suited to individual needs.
This is a coaching camp for you not only to learn new drills and work hard but to understand your own mechanics and be able to go home with new knowledge to apply beyond the training.
Schedule
The camps runs for five days with coaching from 9:00-1:00 daily, followed by ocean recovery sessions.
We will record various parts of your training and will store to your own online library.
There is open game play with conceptions every day in the late afternoon.
Day four is one training with larger camp completion running during the whole day. 
The Beach courts are available the two days either side of your camp for social pick up games. 
We also have the opportunity to organise tournaments with other beach volleyball coaches and local residents while you are there.
Costs
The cost for the five days' coaching is £240 per person if you pay by BACS + 4.5% if by PayPal/credit card.
Each player must register through the individual registration
Although booking in small groups helps with accommodation, travel and fun!
Flights and accommodation are your own responsibility as well as insurance.
The area to stay in is Los Cristianos and as close to the harbour as possible.
Please feel free to use our local agent Matteo and Conchie through Lighthouse Accommodation Tenerife who are beautifully reliable and very helpful.
Insurance should be done at your own expense but we recommend insure 4 sport who covers our coaches and company insurance. The link is for individual player insurance for volleyball for a year. UK residents, don't forget to click worldwide.
As an active person we highly recommend that you take out personal insurance, due to potential cancellations as well as accidents during your adventure.
We are not able to refund up to eight weeks before the start date of your camp. We will endeavour to sell on your place. 
Any cost rises this year are going straight to the coaches pay and development. We appreciate your continued support of their choice to sustain a beach volleyball coach life.
To book on a Tenerife camp please fill in and pay via the online forms available on the Make a Booking page.
To discuss the camps in more detail or need more information please contact
Denise Austin on 0777 33 82 305 
Beach Volleyball Inc Beach Camps : Dec-Feb