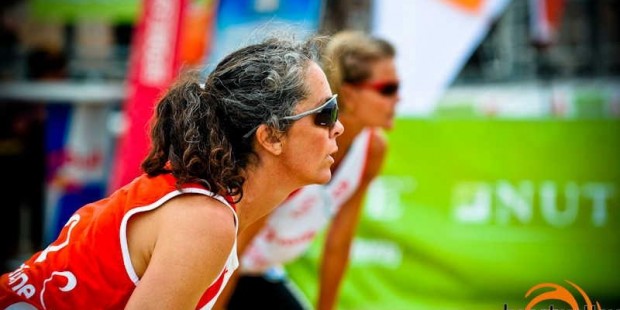 Testimonials
The latest Testimonial: 11th May 2015

Hello Denise,

Thank you very much for your excellent coaching yesterday – as always your knowledge of the game and your enthusiasm are infectiously empowering.

I feel very energised and excited (I mean mentally, physically I feel a bit broken 🙂 ).

Andrey


Tenerife beach Volleyball Camps – A players view

"Coaching and helping people move forward with their own understanding of beach volleyball means everything to me, there isn't one person who wants to learn that I dont enjoy working with. I am in the most fortunate position that this isn't work its what I do."
"The weekend with Denise offered an invaluable insight into the entry-level beach volleyball. She managed to give me a smooth transition from indoor techniques to a fresh new 'beach thinking'. She was firm yet approachable, very professional and prepared for various levels of players. I thoroughly enjoyed the whole experience and would like to point out that over many years of playing I did not come across to such a high quality of volleyball coaching in the UK." (Katarina)
"The weekend course was an invaluable experience for anyone who wants to start playing beach volleyball. The coach organised a range of players together in order to expose us to experienced players as well as players with whom we could focus on basic beach volleyball technique. I was amazed at the high calibre of coaching which was seen from very clear explanations, precise diagnosis offering steps to improve and also sensitivity to players of different strengths and changing morale. Altogether amazing sporting experience!" (Hanka)
Civil Service Beach Volleyball Camp
The event was hosted by Denise Austin, for 8 people – 6 CSSC members and 2 guests – 4 male and 4 female, which worked out quite nicely for playing mixed pairs.
The aim of the w/end was to develop awareness, knowledge and skill levels with regard to beach volleyball at every level from beginner to experienced player (which we quickly discovered none of us were !!) There's an enormous difference between playing Beach Volleyball and playing indoor volleyball on a beach 😉
The w/end started, after introductions, with a warm up session. That description doesn't really do it justice – we all agreed afterwards that we'd never had so much fun, or smiled so much, during a warm up !! Denise was a very knowledgeable, enthusiastic, intuitive and capable coach, quickly able to determine the individual needs of those attending and to provide instruction/drills that could be carried out by all to develop the skills necessary on an individual level whilst still enabling the dynamics of the group, as a team, to develop in parallel.
A lot of the activity was recorded so that we could watch it later and it definitely felt like it took a lot longer to watch it than it had to do it, such was the level of enjoyment (if it's at all possible to use that word in connection with being worked hard, on sand, using muscles that your body has forgotten it had) from all those taking part.
Sunday followed a similar pattern, introducing new skills/techniques and how to employ them in a match situation, building up to the competition for King and Queen of the court, which, after some very good rallies (not withstanding the odd "domestic" over application of the rules) the victory was awarded to Ivan Rogers (the King, incidentally) and Sarah Newstead, so a particularly large "Well Done" to those two.
It is, in fact, wrong to single individuals out, everyone that attended the w/end showed a marked improvement, learnt an enormous amount, and went away with things to remember and work on to continue their improvement. This was only achieved because everyone put in so much effort, not only into learning things for their own benefit, but everybody helped everybody else and a very good team spirit and ethos was developed.
Of all the sports contested at the Olympic Games, Beach Volleyball has the fastest rising number of spectators. This is not only because it is a fast and exciting game to watch, but also because more and more people are getting involved and playing at all levels – I refuse to admit that it has anything at all to do with the skimpiness of the outfits!! 😉 That is why I believe that a very good way of getting more people involved and playing volleyball within both the CSSC South West Region and the CSSC as a whole, is to run more of these w/ends. That, in turn, will increase general awareness of volleyball, along with increasing the numbers of members playing, which can only lead to increased participation at Regional and National events.
"I thought the w/end was very successful and enjoyed it immensely."
"It was good that Denise challenged us but also kept it at our level."
"As someone who's never actually really played beach vball before, it was perfect as I now feel confident I could enter a beach competition (although how well I'd actually do is another matter!) and at least know what was going on."
"And of course the basics always need work – the digging work was particularly good."
"It was really great that there were only 8 of us, so you got advice on exactly what you personally do wrong/well."
"Good mix of learning techniques & playing games"
"Relaxed atmosphere and Denise made it easy for you to just "have a go" at everything, even if it went horribly wrong!"
"It was nice that Denise had a few clear basic messages which got repeated a lot and which you can keep in your head the whole time – e.g. use legs, keep low etc"
"Denise put everything into a game context as well, so that you understood when you were supposed to use what and why and that she talked about trying to understand what the other team are going to do and how to react to it."
"It was nice that we weren't all from one team because it was nice to play with different people"
"I think it would be good to encourage newcomers or more improvers to try it."