Denise Austin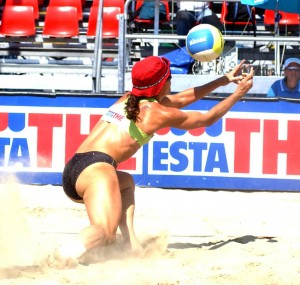 Denise has been coaching beach volleyball in the UK since 1995, when she ran the first National Junior Beach Camp.
Since then while competing she has maintained her contact with coaching and developed the top level players while competing against them.
Zara Dampney GBR Olympian in London 2012 began her beach volleyball career learning in Croyde with Denise from the age of 15.
Denise Austin's other major developments have been in the Beach Volleyball Camps for recreational players and has run well over 100 camps in the UK and abroad since 1995, for more information please see the Coaching & Camps page.
Denise Austin whose international career can be found at bvbinfo.com is the head coach of Beach Volleyball Inc. Her history in the sport as a player and as a coach speaks for itself.
There isn't anyone who has survived playing and coaching in beach volleyball longer! She has written the book on coaching and how to coach coaches, she pioneered the international beach volleyball travelling player, as well as initiating most of the junior developments in beach volleyball from national training camps, to regional and national tours, set up the first permanent beach volleyball court on the beach and built the first permanent inland court. She is currently the VE National Junior Beach Volleyball Head Coach working as a volunteer to grow the sport in England.