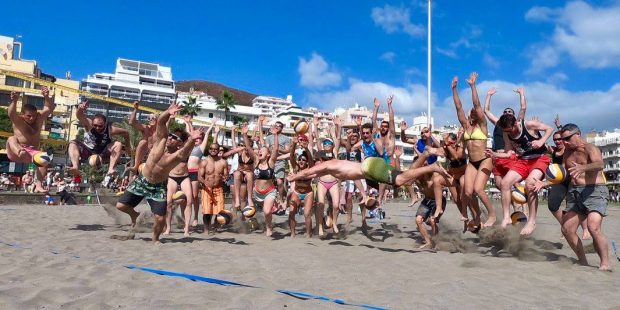 Welcome!
Welcome to Beach Volleyball Inc Home Page.
If you are looking for beach camps Tenerife is next from the 10th December 2018 through to the 8th February 2019
5 larger group weeks and 3 small groups for friend group booking only
Beach Volleyball Inc is my company, Denise Austin, founded in 2000. I have been passionately involved in anything around beach volleyball since 1990.
Beach Volleyball Inc provides many services of coaching for any level player, with our successful beach volleyball camps in Croyde, Barry Island, Bournemouth, Yellowave, Worthing, Barn Elms, Keele, Loughborough, Oxford, Tenerife, France, Croatia and Italy. We cater for the complete beginner to budding international players.
Many GBR players first learnt the fundamentals and developed into international beach volleyballers while spending time in Croyde, my home village, Jess Grimson, Vicky Palmer, Lucy Boulton, Zara Dampney, Gregg Weaver, Jody Gooding, Jake and Luke Sheaf. The next generation of young players Anaya Evans, Ellie Austin, Sam Dunbavin, Haydn Lawson and Will Hartnoll have all been 'grown' locally through our club www.academyofbeachsports.org.uk
If you are looking to develop your beach volleyball coaching skills then we offer individual learning through working alongside our coaching or if you would like to run a beach volleyball coaching course for your club then I am the Staff Tutor for beach volleyball for Volleyball England.
BVInc provides free phone consultations for anyone looking to build a beach volleyball court and can also help you build them, I love to collect sand and I have a sample of most of the beach courts across the UK. We will help with the suitability of your local sand suppliers or if you just need some helpful advice when you start building we are on the end of the phone through the whole process.
It has been my honour to help pioneer and continue the growth of the sport in the UK and if you can't see what you are looking for just ask and we will endeavour to provide or find it for you.
Yours in sport,
Denise Austin