Croyde Camps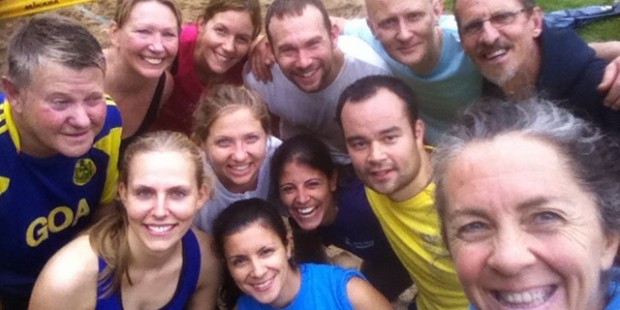 Croyde Camps are mostly over the weekend (but also during mid-week for group bookings of 4 or more) and are aimed at the volleyball player already in the making. Denise Austin coaches the weekend, aiming to help the indoor player make the transition to be a beach volleyball player, or beach players who would like to improve their beach knowledge but who have not had the opportunity to work with a beach coach. Denise also works with International and National level players.
There is also opportunity for beach volleyball teams who would like to work over a continued period with a regular coach and would like event coaching during the summer.
The coaching will be tailored to the athletes and all levels will can be catered for.
Costs
£35 per hour for short day sessions.
£40 – One day weekend – price per person for eight-ten people – approx 11 hours coaching in total.
£75 – Two days weekend – price per person for eight-ten people – approx 11 hours coaching in total.
£75 – Mid week – price per person for four or more people.
We are also offering a buy one night get one free at our B&B Seabirds for any Sunday to Thursday during the off peak time.
Availability
For up to date availability please see the availability page HERE»
Booking
To book on a Croyde weekend camp please fill in and pay via the online registration & medical form HERE»
For more information or to book a midweek camp please contact Denise Austin on 0777 33 82 305 or email denise@beachvolleyballinc.com.
Please note that refunds will only be given within 14 days notice of the date of your booking.
The Civil Service Beach Volleyball Camp Feedback
The event was hosted by Denise Austin, international beach volleyball player and National Coach and the top ranked British woman, having finished a highest place of 7th on the FIVB International World Tour, for 8 people – 6 CSSC members and 2 guests – 4 male and 4 female, which worked out quite nicely for playing mixed pairs

The aim of the w/end was to develop awareness, knowledge and skill levels with regard to beach volleyball at every level from beginner to experienced player (which we quickly discovered none of us were!). There's an enormous difference between playing beach volleyball and playing indoor volleyball on a beach '-)

The w/end started, after introductions, with a warm up session. That description doesn't really do it justice – we all agreed afterwards that we'd never had so much fun, or smiled so much, during a warm up!

Denise was a very knowledgeable, enthusiastic, intuitive and capable coach, quickly able to determine the individual needs of those attending and to provide instruction/drills that could be carried out by all to develop the skills necessary on an individual level whilst still enabling the dynamics of the group, as a team, to develop in parallel.

A lot of the activity was recorded so that we could watch it later and it definitely felt like it took a lot longer to watch it than it had to do it, such was the level of enjoyment (if it's at all possible to use that word in connection with being worked hard, on sand, using muscles that your body has forgotten it had) from all those taking part.

Sunday followed a similar pattern, introducing new skills/techniques and how to employ them in a match situation, building up to the competition for King and Queen of the court, which, after some very good rallies (not withstanding the odd "domestic" over application of the rules) the victory was awarded to Ivan Rogers (the King, incidentally) and Sarah Newstead, so a particularly large "Well Done" to those two.
Some of the comments about the coaching were:
"I thought the w/end was very successful and enjoyed it immensely."
"It was good that Denise challenged us but also kept it at our level."
"As someone who's never actually really played beach vball before, it was perfect as I now feel confident I could enter a beach competition (although how well I'd actually do is another matter!) and at least know what was going on."
"And of course the basics always need work – the digging work was particularly good."
"It was really great that there were only 8 of us, so you got advice on exactly what you personally do wrong/well."
"Good mix of learning techniques & playing games."
"Relaxed atmosphere and Denise made it easy for you to just "have a go" at everything, even if it went horribly wrong!"
"It was nice that Denise had a few clear basic messages which got repeated a lot and which you can keep in your head the whole time – e.g. use legs, keep low etc."
"Denise put everything into a game context as well, so that you understood when you were supposed to use what and why and that she talked about trying to understand what the other team are going to do and how to react to it."
"It was nice that we weren't all from one team because it was nice to play with different people."
"I think it would be good to encourage newcomers or more improvers to try it."