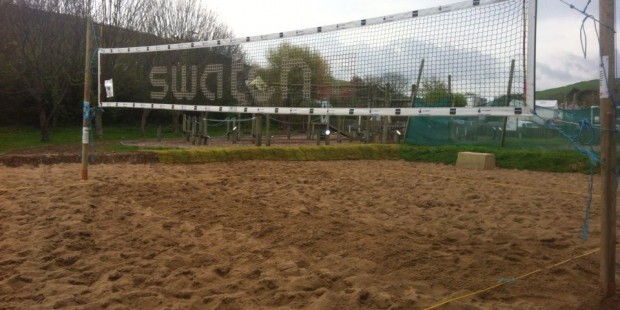 Availability & Booking
2016-2017 Dates & Availability
At virtually all camps there will be video recording, please discuss your choice of colour for tops, as too many black skins makes them difficult to tag. Thank YOU!
To reserve a weekend or register for any camp please call – Denise Austin on 0777 33 82 305 or email denise@beachvolleyballinc.com.
If you know you are part of a reserved group then please fill in the registration forms below
Worried the numbers don't add up? Registered players will only appear once payment has been confirmed
Please note refunds will only be given with 8 weeks notice, however we will give a credit note but only to be used by the individual who made the original booking not for transfer.
| Event | Available Spaces | |
| --- | --- | --- |
| 25th & 26th March 2017 – Open For Group Reservation please contact Denise AUSTIN | 8 | Register » |
| 8th & 9th April 2017 in Association with Cardiff Beach Volleyball-OPEN to all | 14 | Register » |
| 17th April 2017 The Big Day @ Worthing Andy P and Friends Reserved | 0 | Register » |
| RESERVE LIST 17th April 2017 The Big Day @ Worthing Andy P and Friends Reserved | 15 | Register » |
| Spain- Gandia- 22nd April to the 29th April 2017-OPEN to all | 0 | Register » |
| RESERVE LIST Spain- Gandia- 22nd April to the 29th April 2017-OPEN to all | 7 | Register » |
| 29th & 30th April 2017 – Reserved Jaime Bainbridge & Friends | 0 | Register » |
| 15th &16th April 2017 – Volleyball England Beach Coach Qualifcation | 16 | Register » |
| 6th & 7th May 2017 – Shona and Friends Reserved | 8 | Register » |
| Beach Academy Summer Sessions Little Diggers Monday 4:00-4:30 4-8/9 years old | 16 | Register » |
| Beach Academy Summer Sessions U14 Monday 4:30-5:30 | 24 | Register » |
| Beach Academy Summer Sessions 14+ Monday 5:30-6:30 pm Followed by open game play | 24 | Register » |
| Beach Academy Summer Sessions Little Diggers Thursday 4:00-4:30 4-8/9 years old | 16 | Register » |
| Beach Academy Summer Sessions U14 Thursday 4:30-5:30 pm | 24 | Register » |
| Beach Academy Summer Sessions 14+ Thursday 5:30-6:30 pm Followed by open game play | 24 | Register » |
| 13th & 14th May 2017 – Open For Group Reservation please contact Denise AUSTIN | 8 | Register » |
| 20th & 21st May 2017 Jersey Beach Volleyball Camp | 24 | Register » |
| 27th & 28th May 2017 in Association with London Beach Volleyball Club-OPEN to all | 23 | Register » |
| 29th, 30th & 31st May 2017 Croyde Camp three half days with other halves!-OPEN to all | 16 | Register » |
| 3rd & 4th June 2017 – Open For Group Reservation please contact Denise AUSTIN | 8 | Register » |
| 10th & 11th June 2017 – Open For Group Reservation please contact Denise AUSTIN | 8 | Register » |
| 24th & 25th June 2017 – Open For Group Reservation please contact Denise AUSTIN | 8 | Register » |
| 29th July to the 5th August 2017 International Beach Volleyball School for 12-17 year olds | 16 | Register » |
| 5th August – 12th August 2017 International Beach Volleyball School for 12-17 year olds | 16 | Register » |
| 12th & 13th August 2017 – Open For Group Reservation please contact Denise AUSTIN | 8 | Register » |
| 14-17th August 2017 Sally McCann and Friends | 3 | Register » |
| 12th & 13th August 2017 – Open For Group Reservation please contact Denise AUSTIN | 8 | Register » |
| 26th & 27th August 2017 – Open For Group Reservation please contact Denise AUSTIN | 8 | Register » |
| 2nd & 3rd September 2017 – Open For Group Reservation please contact Denise AUSTIN | 8 | Register » |
| 9th & 10th September 2017 – Open For Group Reservation please contact Denise AUSTIN | 8 | Register » |
| 16th & 17th Sept 2017 in Association with London Beach Volleyball Club-OPEN to all | 24 | Register » |
| 30th Sept-1st Oct 2017 – Open For Group Reservation please contact Denise AUSTIN | 8 | Register » |
| 7th & 8th October 2017 – Open For Group Reservation please contact Denise AUSTIN | 8 | Register » |
| Tenerife Week One 11-15th Dec 2017-Now Open – INTERMEDIATE TO ADVANCED | 16 | Register » |
| Tenerife Week One 11-15th Dec 2017-Now Open BEGINNER TO PROGRESSIVE PLAYER | 7 | Register » |
| Tenerife Week Two 27th-31st Dec 2017-Now Open BEGINNER TO PROGRESSIVE PLAYER | 6 | Register » |
| Tenerife Week Two 27-31st Dec 2017- Now Open – INTERMEDIATE TO ADVANCED | 15 | Register » |
| Tenerife Week Three 3rd-7th Jan 2018 – Now Open – INTERMEDIATE TO ADVANCED | 22 | Register » |
| Tenerife Week Four 9th-13th Jan 2018 – Now Open – INTERMEDIATE TO ADVANCED | 15 | Register » |
| Tenerife Week Five 15th-19th Jan 2018 – Now Open – BEGINNER TO PROGRESSIVE PLAYER | 8 | Register » |
| Tenerife Week Five 15th-19th Jan 2018 – Now Open – INTERMEDIATE TO ADVANCED | 16 | Register » |
jQuery(document).ready(function(){
jQuery("#ee_filter_cat").change(function() { var ee_filter_cat_id = jQuery("option:selected").attr('class'); console.log(ee_filter_cat_id); jQuery("#ee_filter_table .espresso-table-row").show(); jQuery("#ee_filter_table .espresso-table-row").each(function() { if(!jQuery(this).hasClass(ee_filter_cat_id)) { jQuery(this).hide(); } }); if( ee_filter_cat_id == 'ee_filter_show_all') { jQuery("#ee_filter_table .espresso-table-row").show(); } });
});