Italy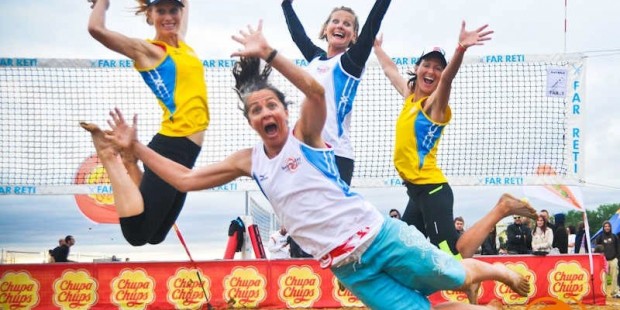 The Italian beach volleyball camps are based around the Bibione Beach Volleyball Marathon. Accommodation is arranged in apartment shares close to the venue and entry fees and registration to the event is organised for you.
Our camp is fun, friendly, social and influential and aimed at the already committed beach volleyball player who has the stamina to last four intensive days of coaching and playing. The camp has a maximum of 18 people run over 3 courts with 6 athletes on each court and one coach per court.
The event itself starts on the Friday with 2's, Saturday 3's and Sunday 4's. The 2's is a fairly high standard with single set double elimination so expect a tough event, but the 3's and 4's are in pool play so offer more tournament play.
Personal Coaching
Our aim is to make sure all the coaches are taking a keen interest in your personal development, as coaches we factor in our time to debrief about every individual daily and then create training suited to individual needs, this is a coaching camp for you not only to learn new drills and work hard but to understand your own mechanics and be able to go home with new knowledge to apply beyond the training.
Schedule
The camps runs for four days:
Monday : 11:30-1:30/4:00-6:00
Tuesday : 09:30-11:00/11:45-1:15/4:00-6:00
Wednesday : 09:30-11:00/11:45-1:15/4:00-6:00
Thursday : 10:00-12:00
All sessions followed by pool recovery sessions.
We will record various parts of your training and will store to your own online library.
There is open game play every day in the late afternoon.
Cost
Training : £150 per person
Apartment : £150 per person
Event Registration and fees £60 : per person
Flights and transfers from the airport (Venice is the closest) to and from Bibione : at your own cost
Insurance : at your own cost
Availability
For up to date availability please see the availability page HERE»
Booking
To book on the Bibione camp please fill in and pay via the online registration & medical form on the individual camp's page HERE»