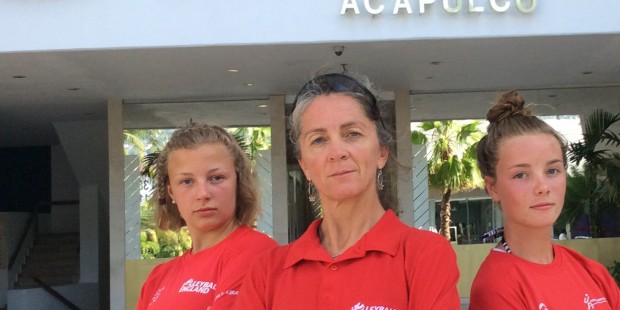 Coaching CV
Petroc College Academy 2008-
Petroc British College Winners 2018, 2017, 2016, 2015 Girls
Petroc British College Gold Medals 2018, Bronze Medal 2017 Boys
2018 European U20's Anapa Russia 9th Place Ellie Austin (U18) & Holly Bentley (U19)
2018 European Olympic Qualifier 2nd Round Baden
2017 European U20 Championships Volcano Island Italy Anaya Evans(U19) and Ellie Austin (U17) 17th Place
2016-2017 TASS Pilot project for Volleyball England Petroc College
2016 European U20 Championships Greece Matthew Rhymer and Kirsty Starmer
2016 European U18 Championships Czech Republic Ellie Austin (U16) and Lauren Huggins (U18) Matthew Rhymer, Amanda Glover & Denise Austin
2016 World U19 Championships Cyprus Head Coach Programme Anaya Evans (U19) and Zoe Baxter (U19) (Alex Chavasse)
2016 NEZVA U17 & U19 Championships Sweden (Denise Austin and Matt Rhymer)
2016 European U20 Championships Turkey Head Coach Programme 25th Anaya Evans (U19) and Ellie Austin (U16) (Amanda Glover)
2016 World U21 Championships Switzerland Qualification 49th Anaya Evans (U19) and Ellie Austin (U16) (Denise Austin)
2015 European U18 Championships Lativa 13th-Anaya Evans (U18) and Yasmin Kaashoek (U17)(Denise Austin)
2014 Head Coach National Junior Beach Programme oversee U18/U20/U22 programme and teams (Matthew Rhymer and Denise Austin)
European U18 Championships Norway 13th -Place Anaya Evans (U17) and Yasmin Kaashoek (U16)
World U17 Championships Acapulco 9th place-Volleyball England-highest junior finish to date
VE Junior Beach Head Coach 2013-
VE Junior Beach Camp Head Coach Croyde 2010/2012
TASS beach Volleyball coach 2005-2009
World U21 Junior Beach Volleyball Coach GBR 2008 & 2009
Volleyball England Staff Tutor Level 1/UKCC CTS Level 1
Staff Tutor/Wrote VE Beach Volleyball Coaching Award 2004, run first course in Croyde 2004 followed by two more courses in 2005. 30-beach volleyball coaches now qualified. In the process of writing the finalised manual to go with the award.
National Tour 2003- Competing at the top level to provide opposition to the up and coming teams plus also to play with up and coming juniors to give them experience of competing at a higher level.
World Tour 2003, four world tour plus European Championship. Injury to partner forced early exit.
Tenerife 2003. 3 months training in preparation for World Tour, detailing sessions from Sixto, (Xavier Bosman, Silver medallist from Athens Coach) Working with Head coaches from Norway while training their two teams who qualified for Athens. Helping train German Junior squad on a winter training camp. Training daily with Myra from Mexico world tour player.
Tenerife 2002. 1 month training, working with Greece National Teams along side Alamo the Greek Head Coach, from Brazil. Teams have since gone onto podium places after Athens. Working again with world tour teams from Norway and Switzerland
Los Angeles 2001. 3 months training and coaching in Hermosa Beach. Training daily with top teams from USA, Australia, Norway, and Switzerland. Coaching local AA/AAA players as a private coach.
World Tour 2000: Qualification for Sydney 25 team, 24 teams went. 7th in Portugal highest place for UK team. Overall in top 24 by end of the season.
Los Angeles 1999-2000: 5 months training in preparation for World Tour. Working with American Cody Cowell (top AVP player). Physical trainer Mike Morris (college Bowl winner in American Football) Training with top USA teams JJJ and Annette Davies, Linda Hanley, Lisa Arce, Barbara Fontana, Ali Wood, Danalee Bragado, Sarah Stratton (AUS)
World Tour 1999: Six events two 25th and one 17th. Working with Alamo while in the states who coached many top world tour teams while he was based there
AVP Hermosa 7th Place 1999.
Brazil1998-1999: 5 months training based at Ipanema, Rio, in preparation for World Tour. Working 5 mornings a week with Monica Rodgregues (Silver Medallist from Atlanta and World Tour winner) Being coached by George Rodregues, who coaches her to the silver medal. Working with Jackie Silva Gold Medallist from Atlanta while she was partnering Monica. 3 months training in the p.m. with Gerusa and Magda top Brazilian team.
Los Angeles 1997-98: 3 months training LA. Training with top US players and working with Steve Anderson Kerri Pottharst and Nat Cooks coach.
South Africa 1995-6: 5 months training in Cape Town, working as a coach and trainer to the top SA women players.
Australia 1994-5: 6 months Perth WA. Playing with National Team setter Sharon Browning on WA and Aus pro tour. Being coached by Mandy Coombes, ex-top Aus player while she was coaching the top two Japanese teams who were training for the world tour, Takahashi who was a four time Olympian and took fourth place in Sydney. Also training with Nat Cook, Anita Palm, Annette Hugens-Tholen, Sarah Stratton, Chris Wilson and other top Australian players.
USA 1993: San Diego 2 months. Playing with Mo Glover. Training daily with top US players, Kirby, Masakayan,
Australia 1992-3: 4 months Perth WA. Playing with Mo Glover on WA pro tour. Training with top Australian teams, Pauline Manser, Annette HT, Melissa Green, Lisa Wilcocks.
Australia 1990-1991: 6 months Australia, 2 months Perth WA, training with Aus and Puerto Rican Pro Players.
Coaching activities Croyde 2005: 4 day performance camp start of the two year cycle to create a NT structure and build up a cycle for teams to be competing by 2007 in European and World events for U23, U21, U19 and U18.
Croyde 2004- Academy of Beach Sports coach. Open door for all athletes who wish to be coached at Beach Volleyball. Lucy Bolton, Zara Dampney, Steve Fee, Joe Mildred, Chris White, plus many others. Over 30 players from the Grand Prix.
Croyde 2002: Training Camp Croyde Junior Teams Olding/Cooper, Olding Weemes, for European U23 and World U18 Championships
Tenerife 2002:Training Camp for Junior Team of Olding/Cooper two weeks
Hermosa 2001:Training Camp for Junior Team Gooding/Pierce Two weeks. Junior Team Olding/Cooper 2 weeks.
Croyde 2001: Training Camp for Olding/Cooper, Weaver/Hubbard in preparation for European U23 Championships
Hermosa Beach LA 2001: Training Camp for Switzerland Junior team one weeks training.
Heyford 2000: Performance Camp Heyford, introduction to beach volleyball for top junior players, Kerri Olding, Greg Weaver, Luke Sheaf.
Croyde 1998: 10 day Performance Camp for Top female Juniors, George Poulton, Debbie Spokes, and Karen Ingham.
Croyde June 1998: North Devon Secondary schools (13) All received volleyball coaching, top 2 boys and girls invited to attend three day beach volleyball introduction, followed by N.D. junior beach volleyball event.
West Australian Junior Beach training, assistant coach during winter 1994-5.