Mo Glover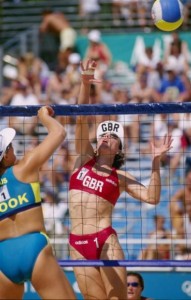 Amanda 'Mo' Glover is England Beach Volleyball's unofficial National Treasure. She is one of only two British Olympians to have qualified for the Olympics. Her full playing history can be found at bvbinfo.com.
Along with Denise she has coached all the national and international juniors and is one of the most respected people involved in the sport in the UK.
She has an energy, passion fuelled with fun and laughter that is infectious, the training camps where Denise and Mo work alongside each other are driven by the desire to see everyone understand what it takes to be the best beach volleyball player and partner they can be.